Ever since we first mentioned this news story on our vlog, the comments section has been buzzing with debate over this issue. Some eagerly saw this gesture as a welcome sign of support from the national retail chain. Others saw it as a bit of an empty gesture that was too little too late. Some thought it was simply a ploy designed to siphon away our hard-earned, gay-friendly dollars.
For those of you who are scratching your heads, Target is selling a series of online exclusive Pride shirts all throughout Pride Month. They've also pledged that 100% of the profits made from selling said shirts (up to $120,000) will be donated to the Family Equality Council, which is an advocacy group for LGBT parents and their kids. They've already received complaints from conservative groups like Minnesotans for Marriage, which called the gesture "a slap in the face to people of faith and supporters of marriage". No surprise there. Yet some pro-LGBT advocates are also crying foul, since they knowingly donated to a PAC two years ago that supported an antigay candidate for governor.
Those of you who watch our videos know that Will and I shop at Target pretty frequently. We do so really for two reasons. One, it's literally around the corner from our house, and two, we can either shop there or at WalMart. Let's face it, we live in the South—the birthplace of blatantly antigay companies like Chik-fil-A. Yet, when I heard that Target would be selling these shirts, I made it a point to go online and buy two of them. Allow me to explain…
I feel like a lot of the gays who are criticizing Target are the same ones who accused Obama of "flip-flopping" on the issue of marriage equality. To me, this is completely asinine. Forget that people aren't married to their same opinion over the course of their lifetime. If that were true, I'd still watch Sesame Street and think that Peter Pan was the greatest movie of all time. I think this sentiment has more to do with this notion that people have to constantly hold entities responsible for their mistakes. Don't get me wrong, I am a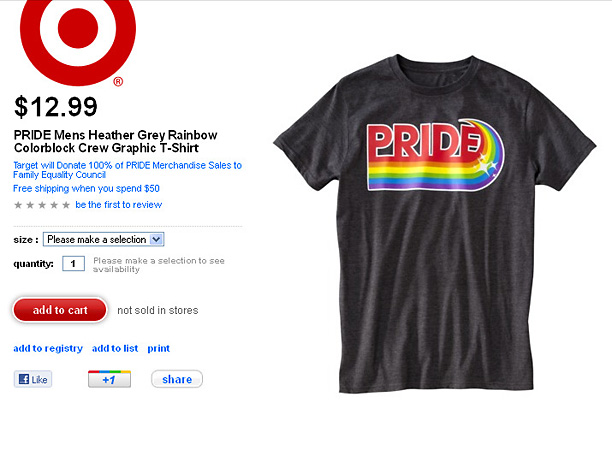 firm believer in calling people out on their bullshit…to a point. Once a president or a corporation decides to finally do the right thing, what good does it do to dwell on stupid mistakes? Keep in mind, too, that Target's donation to an antigay candidate (who ended up losing) was a bit of an isolated incident. They have had LGBT-friendly employment policies for years. I even worked for them—it was my first job ever. They have also sponsored various Pride events prior to making that donation. So as long as Target is willing to atone for their previous indiscretion, I say we set a good example for our pseudo-Christian opponents and be ready to forgive.
That said, there are other pro-gay activists who claim that this sudden display of generosity is simply Target trying to act in their self-interest and save face. To this I say…no shit, Sherlock. Corporations are always going to act in their own self-interest. Do I think that they would try to fight marriage equality if they felt that it would protect their bottom line? Absolutely. If anything, though, that gives us all the more reason to show our support. We need to show this and other companies that it's in their financial best interest to do what's right. It's how we were able to win over companies like JCPenney. Plus we all know how much the Republican party has a raging hard-on for corporations. So if we can help businesses realize that supporting equality is good for the bottom line, we can pop the bubbles of many empty arguments used to withhold our rights from us.
But hey, that's just me getting on my soapbox. I highly encourage you to take a look and make a decision for yourself. Just know that, if you decide that you want to buy a shirt or two after all, they are selling out fast…